OPEN CALL

Applications are open from the 1st of April, and you must submit it before the 30th of April 2018, at midnight, local time (UTC+2). 
Download – Download the application questionnaire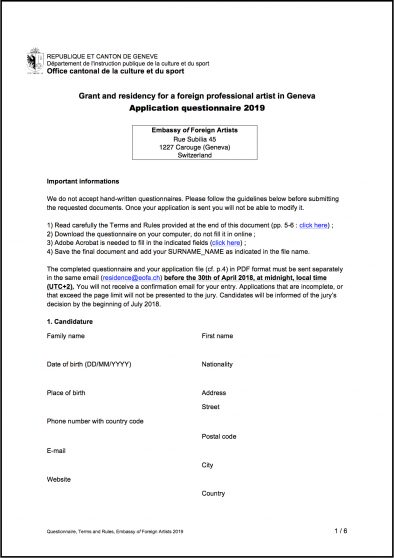 Important informations

We do not accept hand-written questionnaires.
Please follow the guidelines below before submitting the requested documents.
Once your application is sent you will not be able to modify it.
1) Read carefully the Terms and Rules provided at the end of this document;
2) Download the questionnaire on your computer, do not fill it in online;
3) Adobe Acrobat is needed to fill in the indicated fields (click here);
4) Save the final document and add your SURNAME_NAME as indicated in the file name.
You will not receive a confirmation email for your entry.
Applications that are incomplete, or that exceed the page limit will not be presented to the jury.
Candidates will be informed of the jury's decision by the beginning of July 2018.
Available periods:
– 3 months from 1st January to 31th March 2019
– 3 months from 1st April to 30th June 2019
– 3 months from 1st July to 30th September 2019
– 3 months from 1st October to 31th December 2019
– 6 months from 1st January to 30th June 2019
– 6 months from 1st July to 31th December 2019

Your application must include the following elements:
1) Filled in questionnaire;
2) Application File in PDF format, maximum 15 pages, which includes :
– A cover letter
– Description of the project to be developed in Geneva
– Portfolio of recent work
– Recent CV
– Copy of valid ID or passport
These two documents need to be sent at the email address provided in the questionnaire.
Note : if you are applying for a residency with an artist collective (maximum 3 pers.), you need to send us a single email with one application file and a questionnaire for each member.

Applications are open between the 1st and the 30th of April every year.