OPEN CALL

Applications are now open until the 15th of May 2019, at midnight, local time (UTC+2). 
The Embassy of Foreign Artists is launching calls for themed projects, open to all types of practice. These reflect our areas of interest and our aim to offer research time and visibility to original projects that examine their subject critically.
  
THEMED PROJECTS 2020
FOCUS 2020
Ever since Genevan illustrator Rodolphe Töpffer's success in the 19th century, Geneva has been deeply attached to comics, and UNESCO has recognised this practice as part of its intangible cultural heritage. The city is home to many specialised publishers and bookshops, as well as the Töpffer Prize and the Comics Network Switzerland.
Yet the Embassy of Foreign Artists has never had a comics artist in residency, and hardly ever receives applications from the 9th art. The aim of this focus is to remedy this state of affairs and open the residency to this practice.
To be able to participate, candidates must present a comics project or graphic experiment linked to one of the four themes of the residency.

AVAILABLE PERIODS
– 3 months from 1st January to 31th March 2020
– 3 months from 1st April to 30th June 2020
– 3 months from 1st July to 30th September 2020
– 3 months from 1st October to 31th December 2020
– 6 months from 1st January to 30th June 2020
– 6 months from 1st July to 31th December 2020
IMPORTANT INFORMATIONS
1) Read carefully the Terms and Rules;
2) Download the questionnaire on your computer, do not fill it in online.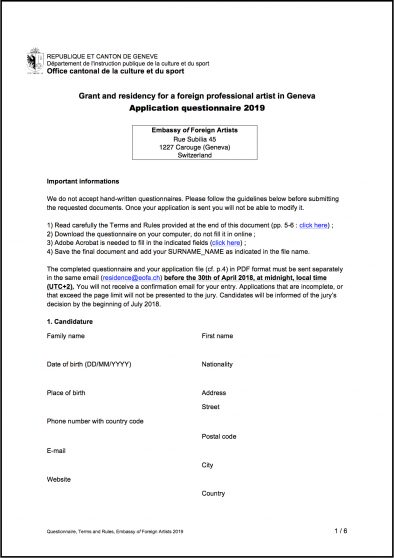 Download – Download the application questionnaire

Your application must include the following elements
1) Filled in questionnaire.

2) Application File in PDF format, maximum 15 pages, which includes :
– A cover letter
– Description of the project to be developed in Geneva
– Portfolio of recent work
– Recent CV
– Copy of valid ID or passport
These two documents need to be sent at the email address provided in the questionnaire.
Note : if you are applying for a residency with an artist collective (maximum 3 pers.), you need to send us a single email with one application file and a questionnaire for each member.

Requirements for applicants


Candidates must respond to the following criteria:
– The open call is addressed to all professional artists coming from following artistic fields: performing arts, visual arts and applied arts (fine arts, dance, theatre, music, literature, comics, cinema, etc.). Cultural practitioners, active in the research of contemporary cultural practices, such as curators, play writers, set designer or from other fields and applied disciplines (architecture, design) are also invited to apply;
– Be in possession of a wide range of creations, publications and performances at a professional level;
– Not be currently registered in a basic artistic training course;
– Not be living in Geneva/Geneva region;
– Speak English;
– Be above the age of 28 years in the year of the residency;
– Accept and agree to pay costs related to their travel and artistic production.