Sugar Free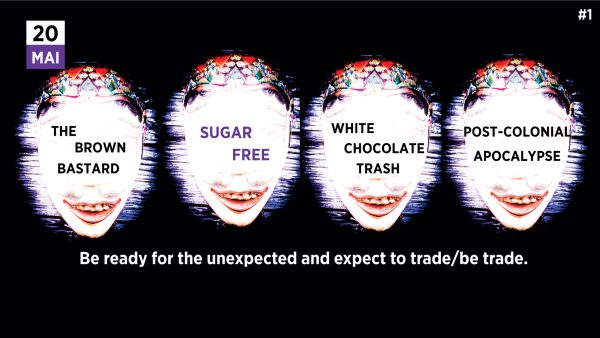 –––––––––––––––––––
Welcome @17h00
Performances @18h00
Curfew @21h00
After party @00h00 Motel Campo
Trade space / Bar / Food / Music / Garden / Family friendly
–––––––––––––––––––––––––––––––––––––––
Sugar Free #1
Dimitri Madimin (NL/SR) / Zen Marie (ZA) / Georgina Maxim (ZI) / Albert Khoza (ZA) / Sharrif Simmons (US) / Gilles Furtwängler (CH) / Nicolas Field (CH) / Henri-Michel Yéré (CH)
Be ready for the unexpected and expect to trade/be trade!
Supported by Pro Helvetia, Mondriaan Fund, Ville de Genève
Hosted by the Embassy of Foreign Artists
–––––––––––––––––––––––––––––––––––––––
(scroll down for english version)
EXTRAIT – «The Brown Bastard, Sugar Free, White Chocolate Trash, Post-Colonial Apocalypse» est le titre du premier évènement d'une série d'interventions, presentations et expositions de «Sugar Free» en 2017 et qui prendront place notamment lors de Art Basel, BIG Biennale (Genève), Circuit (Lausanne), Documenta 14 (Grèce), Museumnacht (Pays-Bas) and ICA (Afrique du Sud). «Sugar Free» est une collaboration entre Dimitri Madimin (artiste, commissaire et chercheur originaire du Surinam et des Pays-Bas) et Zen Marie (artiste, conférencier et théoricien originaire d'Afrique du Sud)
PROJET – Sugar Free est un projet collaboratif initié par Dimitri Madimin et Zen Marie qui a pour but de mettre en place des processus qui transfigurent (re-imaginent) les passés coloniaux. Il s'agit  de les cartographier de manière critique et subversive en relation avec notre société contemporaine. Le projet s'articule autour d'un réseau international d'artistes, musiciens, théoriciens, performeurs, activistes et d'autres personnes qui refusent ou réfutent toute forme de catégorisation.
CONTEXTE – Madimin et Marie suivent et cartographient les itinéraires du sucre, de sa production et son commerce, avec des perspectives à la fois historiques et contemporaines. Cette recherche créative se compose de conversations publiques, d'événements et d'expositions qui questionnent de manière critique les récits de l'histoire et les notions d'héritages culturels. « Sugar Free » se penche sur l'histoire coloniale, le commerce des stimulants, le capitalisme, les flux migratoires, l'esclavage, le mélange de l'ADN et de cultures afin de révéler des images déroutantes et paradoxales. Sugar Free est une expérience temporelle, un scénario qui explore différents espaces au travers d'une série de conversations et de provocations.
CITATION – «Nous faisons un focus sur les marchandises qui agissent comme stimulant, qui créent des désirs et éveillent les sens comme le café, les épices, le tabac, les opiacés, le chocolat, les pierres et métaux précieux et bien sûr, le sucre. Ces substances sont attractives mais aussi dangereuses. Elles rendent dépendant et mettent en œuvrent des relations agressives et violentes dans leurs modes de productions, distributions et consommations. Elles portent la marque de l'esclavage, de la coercition et ont des répercutions écologiques importantes ; ce sont les conséquences du marché global de ces produits.
–––––––––––––––––––––––––––––––––––––––
EXTRACT – «The Brown Bastard, Sugar Free, White Chocolate Trash, Post-Colonial Apocalypse» is the title of the first event in a series of activations, interventions, presentations and exhibitions of 'Sugar Free' in 2017, that include; Art Basel, BIG Bienalle, Circuit (Switzerland), Platforms Project, Communitism, Documenta 14 (Greece), Stadsarchief, Museumnacht (the Netherlands) and ICA (South Africa). «Sugar Free» is an ongoing collaboration between Dimitri Madimin (artist, curator and researcher, Suriname/the Netherlands) and Zen Marie (artist, lecturer and theorist, South Africa).
PROJECT – Sugar Free is a collaborative project initiated by Dimitri Madimin and Zen Marie that aims to reimagine colonial histories as processes for remapping critical and subversive perspectives in the contemporary. It develops around an international network of artists, musicians, theorists, performers, activists and other agents who either lack or refuse categorization.
BACKGROUND – Madimin and Marie follow and map the global routes of sugar, its production and trade both historically and in the present. This creative research, includes activations, public conversations, events and exhibitions that explores this (post)colonial terrain in order to critically question the writing of history and the perceptions of cultural heritage. 'Sugar Free' opens up questions of colonial history, the trade in stimulants, capitalism, migration, slavery and the mixing of DNA and cultures, in order to reveal unexpected and contradictory images, connections and practices. Sugar Free is an experiment with time, a play across space and a global series of conversations and provocations.
QUOTE – «We specifically focus on commodities that act as stimulants, that create desire or heighten the senses, e.g. coffee, spices, tobacco, opiates, cocoa, gems, precious metals (etc) and of course, sugar. These substances are desirable but also dangerous. They rely on and create aggressive and abusive relationships in their farming, mining, extraction, distribution and consumption. They are marked by slavery, coercion and environmental fallout ; it is the aftermath that follows the global markets for these commodities.