Narrations : expositions et projection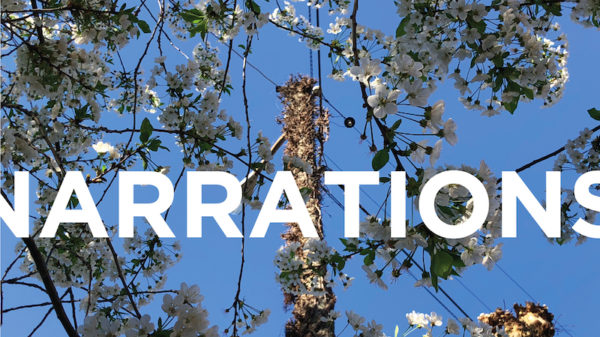 NARRATIONS: expositions et projection
-°-°-°-°-°-°-°-°-°-°-°-°-°-°-°-°-°-°-°-°-°-°-°-°-°-°-°-°-°
impressions sur caisson lumineux
exposition : bâtiment C1194 situées au 78-82 Route des Acacias
Elles sont rangées dans des armoires et des coffres, tandis que d'autres sont encadrées sur des murs. Certaines sont disposées dans des albums pour raconter des histoires de vie et des témoignages d'identités. Les photographies de famille sont plus que des récits personnels ; elles deviennent des biens précieux, qui permette de se remémorer un événement, de se rappeler d'une certaine personne et d'un moment particulier. Mais elles sont aussi en quelque sorte des objets-fantasmes qui permettent un bref instant de «réaliser» des idéaux de «famille» et de matérialiser visuellement qui nous pensons être et espérons d'être, tout en estompant la réalité.
En collaboration avec Pro Helvetia Johannesburg
Nihan Somay présentera quelques pages sous forme de confessions, témoignages et rapport de sa période de résidence à Embassy of Foreign Artists, en mettant l'accent sur ses recherches et ses visites au Centre international de recherches sur l'anarchisme (CIRA) à Lausanne.
«Final Fitting» est un documentaire sur M. Arabpour, maître tailleur et artisan, le plus célèbre de Qom. Il a la quarantaine et est depuis plusieurs décennies le tailleur officiel des chefs religieux les plus importants du pays, de l'ayatollah Khomeini à l'actuel guide suprême, l'ayatollah Khamenei, ainsi que de l'ancien président Mohammad Khatami. Sa clientèle internationale comprend des personnalités telles que l'imam Musa Sadr du Liban.
Reza Haeri (*1974, Théréan) @ Embassy of Foreign Artists: Mai à Juillet 2018 |​ biographie complète
-°-°-°-°-°-°-°-°-°-°-°-°-°-°-°-°-°-°-°-°-°-°-°-°-°-°-°-°-°
vinyl prints on light boxes
exhibition : building C1194, Route des Acacias 78-82
They are kept stashed in wardrobes and chests while a few framed ones decorate room dividers. Some are arranged in albums to tell life stories and testimonies to identities. Family photographs are more than documentation of personal narratives; they become prized possessions, hearkening back to a certain event, a certain person, and a particular time. But they are also vehicles to a fantasy that allows for a momentary space to 'perform' ideals of 'family-ness', and become visual constructions of who we think we are and hope to be, yet at the same time being an erasure of reality.
In collaboration with Pro Helvetia Johannesburg
Nihan Somay will present a few pages of account, report, confession on her residency period at Embassy of Foreign Artists with a focus on her research trips and visits to Centre International de Recherches sur l'Anarchisme (CIRA) in Lausanne.
«Final Fitting» is a documentary about Mr. Arabpour, the master tailor and craftsman, and the proprietor of the most famous tailor shop in Qom. He is in his eighties and for the last several decades has been the official tailor to the most important religious leaders of the country, starting with the late Ayatollah Khomeini to the current Supreme Leader, Ayatollah Khamenei, as well as for the former president, Mohammad Khatami. His international clientele include such prominent figures as Imam Musa Sadr of Lebanon.
Reza Haeri (*1974, Tehran) @ Embassy of Foreign Artists: May to July 2018 | full biography
-°-°-°-°-°-°-°-°-°-°-°-°-°-°-°-°-°-°-°-°-°-°-°-°-°-°-°-°-°
Le programme et les activités organisé par Embassy of Foreign Artists bénéficient du soutien de la République et canton de Genève, de la Ville de Carouge, ainsi que de la Fondation pour la promotion de lieux pour la culture émergente (FPLCE).