Open Studio – Hetal Chudasama / Albert lbokwe Khoza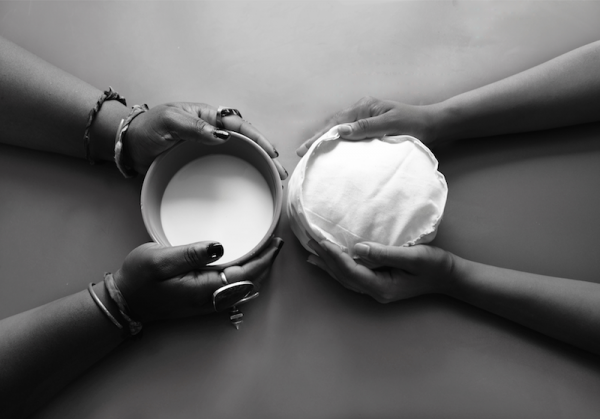 Open Studio
Performances
Embassy of Foreign Artists (EoFA)
22 June 2017
Hetal Chudasama: Reason Not-Knot
FR – «Reason Not-Knot» est une intervention performative d'Hetal Chudasama qui prendra place dans une installation élaborée in situ lors de ses 3 mois de résidence à EoFA. Chudasama est une artiste née en Inde, elle vit et travaille actuellement en Angleterre. Après avoir exploré la peinture, elle développe désormais son travail au travers d'une approche multi-dimensionnelle. Elle construit des espaces d'investigation afin d'interroger à la fois l'intelligibilité du temps et de l'espace, des notions essentielles pour créer une histoire et un mythe.
ENG – «Reason Not-Knot» is a performative intervention within a site-specific installation by Hetal Chudasma created during her 3-month residency at EOFA, Geneva. Chudasama is an lndian-born visual artist living and working in England. Formally a painter, her work involves a multi-dimensional approach. She builds sites of inquiry that interrogate lucidity of time and space, both elements essential for creating history and myth.
–––––––––––––––––––––––––––––––––––––––
Albert lbokwe Khoza: Take ln Take Out
FR – Albert lbokwe Khoza est un performeur de Johannesburg. Bien souvent en Afrique du Sud, il est demandé aux personnes noires d'ignorer leur quotidien pour mieux s'extirper du passé et de leur condition de majorité opprimée. Il y a bien assez de lait pour tout le monde et la liberté est pour tout le monde, avec les mains tendues; la précarité est une question de survie, les danse et les chants sont le sucre de notre lait.
ENG – Albert lbokwe Khoza is a Performance Artist from Johannesburg. To cope in South Africa oftenly black people are told to move on with their lives as a way to deal with the past and the oppressed majority. Theres enough milk for everyone and freedom is for everyone, with hands stretched out, hand to mouth is survival and the dancing and singing is the sugar in our milk.
–––––––––––––––––––––––––––––––––––––––
Hosted by the Embassy of Foreign Artists
Albert Ibokwe Khoza is supported by Pro Helvetia
–––––––––––––––––––––––––––––––––––––––