Sugar free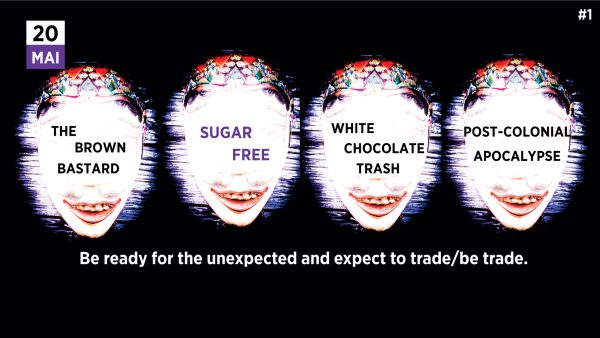 –––––––––––––––––––
Welcome @17h00
Performances @18h00
Curfew @21h00
After party @00h00 Motel Campo
Trade space / Bar / Food / Music / Garden / Family friendly
–––––––––––––––––––––––––––––––––––––––
Sugar Free #1
Dimitri Madimin (NL/SR) / Zen Marie (ZA) / Georgina Maxim (ZI) / Albert Khoza (ZA) / Sharrif Simmons (US) / Gilles Furtwängler (CH) / Nicolas Field (CH) / Henri-Michel Yéré (CH)
Be ready for the unexpected and expect to trade/be trade!
Supported by Pro Helvetia, Mondriaan Fund, Ville de Genève
Hosted by the Embassy of Foreign Artists
–––––––––––––––––––––––––––––––––––––––
EXTRACT – «The Brown Bastard, Sugar Free, White Chocolate Trash, Post-Colonial Apocalypse» is the title of the first event in a series of activations, interventions, presentations and exhibitions of 'Sugar Free' in 2017, that include; Art Basel, BIG Bienalle, Circuit (Switzerland), Platforms Project, Communitism, Documenta 14 (Greece), Stadsarchief, Museumnacht (the Netherlands) and ICA (South Africa). «Sugar Free» is an ongoing collaboration between Dimitri Madimin (artist, curator and researcher, Suriname/the Netherlands) and Zen Marie (artist, lecturer and theorist, South Africa).
PROJECT – Sugar Free is a collaborative project initiated by Dimitri Madimin and Zen Marie that aims to reimagine colonial histories as processes for remapping critical and subversive perspectives in the contemporary. It develops around an international network of artists, musicians, theorists, performers, activists and other agents who either lack or refuse categorization.
BACKGROUND – Madimin and Marie follow and map the global routes of sugar, its production and trade both historically and in the present. This creative research, includes activations, public conversations, events and exhibitions that explores this (post)colonial terrain in order to critically question the writing of history and the perceptions of cultural heritage. 'Sugar Free' opens up questions of colonial history, the trade in stimulants, capitalism, migration, slavery and the mixing of DNA and cultures, in order to reveal unexpected and contradictory images, connections and practices. Sugar Free is an experiment with time, a play across space and a global series of conversations and provocations.
QUOTE – «We specifically focus on commodities that act as stimulants, that create desire or heighten the senses, e.g. coffee, spices, tobacco, opiates, cocoa, gems, precious metals (etc) and of course, sugar. These substances are desirable but also dangerous. They rely on and create aggressive and abusive relationships in their farming, mining, extraction, distribution and consumption. They are marked by slavery, coercion and environmental fallout ; it is the aftermath that follows the global markets for these commodities.