The Embassy of Foreign Artists* is an international residency programme whose aim is to welcome artists, cultural actors, committed citizens and researchers, individually or collectively, and to offer them logistical and financial support for the development of their activities. The organisation makes use of its network in order to promote the realisation and dissemination of their projects and practices.

Our spaces welcome the different stages of the creative process, from the first trials and tribulations to the presentation in a finished form. While some projects are realised during the residency period, others require more time, so we accompany projects during their development time in Geneva and sometimes over longer periods in the framework of collaborations with other institutions.
The Maison Baron is composed of four private bedrooms on the second floor, and a ground floor with a shared kitchen and bathroom, a dining room and a veranda overlooking the garden. This configuration presents common spaces conducive to meetings and convivial exchange, which are an important element of our residence program.
The program is open to all nationalities, only people living in the Greater Geneva area are not eligible to apply.
Due to major budget cuts, our programmes are currently suspended. To be kept informed of future calls, please subscribe to our newsletter or follow us on Instagram.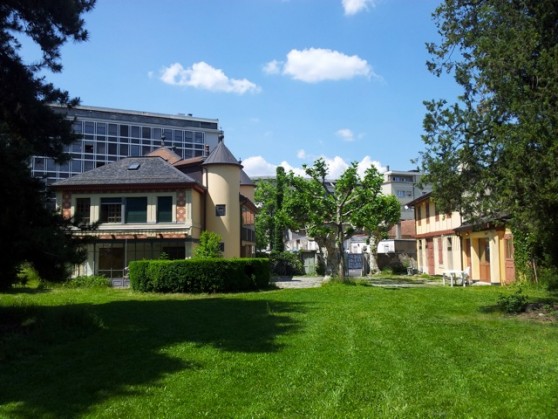 Nested in the heart of Europe, yet remaining outside the EU, Switzerland, particularly Geneva, has been a place of asylum for intellectuals around the world over since the European wars of religion of the 16th century.  Erasmus, Mikhail Bakunin, Hannah Arendt, Bertolt Brecht, Thomas Mann, Robert Musil and Paul Klee are just some of the noteworthy people to have lived in Geneva.

Switzerland's neutral stance allows Geneva to flourish in a space removed from international tension. Reflection and dialogue amongst nations are welcomed, whether it be political discourse with the UN and the UN Refugee Agency (UNHCR),  scientific discourse with the European Organization for Nuclear Research (CERN), or economic discourse through the World Trade Organization (WTO) and the World Economic Forum (WEF).

Taking into consideration the important influence of these fields on contemporary artistic practices, it is essential to give international artists as well as researchers and intellectuals the opportunity to come to Geneva to develop their research.  This intellectual presence is also undeniably beneficial for the community as well as the standing of the city, the state, and the country on the global stage. These interactions benefit Geneva to a great degree.