up dn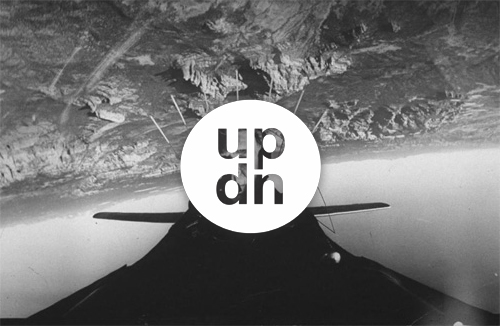 Parnian Ferdossi | nunu kong | Oliver Musovic
Wednesday 28.9.2016
18:00 performance @ Embassy of Foreign Artists, Rue du Subilia 45, Carouge
18:30 exhibition @ Ressources Urbaines, Route des Acacias 76, Genève 
up
dn
Brings together the work of three artists in an attempt to challenge bodily limitations which confine vision and, accordingly, the visible and the perceptible. The exhibition explores alternatives to the dominant ways of seeing and, ultimately knowing, the surrounding world from a human eye level. All the works are preoccupied with the idea of verticality as an unusual way of engagement with space.
In her performance, nunu tests her body limitations and reassess the physics of sound, by attempting to play the trumpet while suspended upside down. Oliver shares the story of his fear of heights, tries to overcome it and challenges the audience. Parnian appropriates satellite images in order to represent a social phenomenon that, due to the lack of visibility, has remained unexplored.
  
Parnian Ferdossi (1986. Iran)
Tehran Annex; For the past decade or so, a tendency has risen amongst the Tehranis' middle and upper class to build housing complexes, homes, villas, and gated communities in nearby towns and villages where a better privacy is available. The new constructions offer a generous invisibility and thus gives a sense of security and entitlement for certain activities. In Tehran Annex, Parnian Ferdossi highlights such changes in nearby towns as the result of Tehran's incompatibility with the new lifestyle of Tehranis. She uses satellite images to present an overall picture of this rapidly growing phenomenon, which is otherwise intangible.
'As a visual artist and researcher, my works usually deal with urban politics, spaciality and mobility within urban environment. I am interested in exploring the ways in which photography makes the invisible visible in relation to space.'
nunu kong (1982, China)
Working as choreographer, performance artist and a "forever amateur" comedian nunu kong develops through her work a characteristic expression playing with time and space in poetic and illusionary dimensions in both visual and dramaturgic levels with a particular sense of humor instinctively blended into her choreography.
Trumpet Upside Down Dancing in Air – Action # 3 the premier of a site-specific performance in the yard of the EoFA residency, as the title itself suggests, is to play the trumpet while suspending her body upside down from a tall tree. It's an endurance piece that tests both her physical and mental strength, climbing the tall tree and suspending herself from the branch, battling a rush of blood to the head which creates a near hallucinogenic effect which could cause unconsciousness. Battling all this and still being able to shape a proper aperture with her mouth to produce a particular and creative sound from the trumpet is also a challenge with an instrument that she has just recently begun learning to play. The entire action taking place from the beginning to end will be operated by herself alone.
But Sorry, No Music – in nunu's recent visual / journal series she has committed herself to creating 6cm x 6.3cm drawings daily for an entire year on choreographies of performance miniatures. The deeply personal notes/drawings are written as if they are in a language which only she understands and presented untraditionally in a gallery space with theatrical settings. The audience can interact and perhaps try to micro-physically interpret them.
Oliver Musovik (1971, Macédoine)
In his works, Oliver Musovik explores the variety of human behaviors and actions, examining the concept of identity in close relations to the notions of place and the everyday. He primarily works in photography in combination with texts, usually short anecdotal stories from personal experience that he organizes according to his own subjective taxonomy. As an artist from former Yugoslavia, Oliver Musovik, with humor and self-referential irony, often draws from his experience of the post-socialist transitional society, as he deals with local history, place memory, alienation, stereotypes and social relations in that specific socio-cultural context.
In Hypsiphobia, Oliver Musovik documents his own fear of heights from the moment of his first realization to the final act of facing it in an attempt to overcome it. With the setup of the installation, he demands from the audience that they face their own (potential) fear of heights too.
 
 
With the support of : Pro Helvetia    
 
Thanks : Ressources Urbaines (RU)