Masterclass | Egyptian belly dance with Hend Elbalouty | Saturday March 16 – 2pm at FLUX Laboratory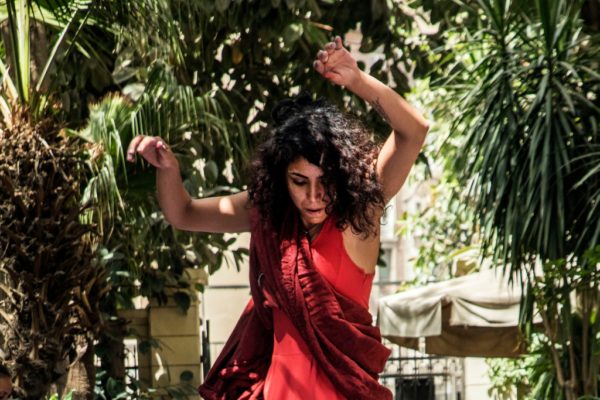 Masterclass | Saturday March 16 – 2pm
Egyptian belly danse / Danse du ventre égyptienne
@ FLUX Laboratory
Rue Jacques-Dalphin 10, 1227 Carouge

Embassy of Foreign Artists is pleased to inform you about the masterclass organised in collaboration with FLUX Laboratory and presented by Hend Samy Elbalouty on Saturday March 16 from 2pm till 5pm.
Duration: 3 hours
Language: english
Cost: 20.-
Outfit: see infos below
All levels and children above 7 are allowed if accompanied.
RSVP: e-mail
---
HEND SAMY ELBALOUTY

Hend Samy Elbalouty started her residency at the Embassy of Foreign Artists in January 2019. She lives in Cologne, in Germany. She started studying contemporary dance at the Cairo Contemporary Dance Centre in Egypt. As a choreographer and dancer, she has participated in numerous local and international art events. Experiencing the joys of belly dancing since her childhood, she now shares her experience by giving belly dance workshops and creative movements in Egypt and Germany. Belly dance is one of the most beautiful, exciting and sensual forms of self expression. Its is empowering, uplifting, healing and fun.
This masterclass introduces the fundamental movements of classic Egyptian belly dance. Creative Dance class based on belly dance basics mixed with contemporary dance movements for who ever wants to move in a different and energetic way. This is an open level session which will build body awareness skills and technical training. Participants learn these skills through body parts "belly dance basics" warm-up, stretch, core conditioning and crossing the space.
It will start with a brief warm-up before moving into the workshop. We will play with the use of shapes, isolation and level changes, while working with snake like movements and basic movements from belly dance. We will then combine it all for a short oriental fusion dance routine.
Web link: profil vimeo
Facebook event: link

Recommended clothing
Wear something that is comfortable: T-shirt and leggings or sweatpants. You can also wear a stomachless shirt or we tight or pull the t-shirt up when we want to show the belly movements. Bring a long scarf with you to go around your hips.
---
This residency is supported by the Republic and Canton of Geneva.