Psychasthenia C : surface, tension | performance-installation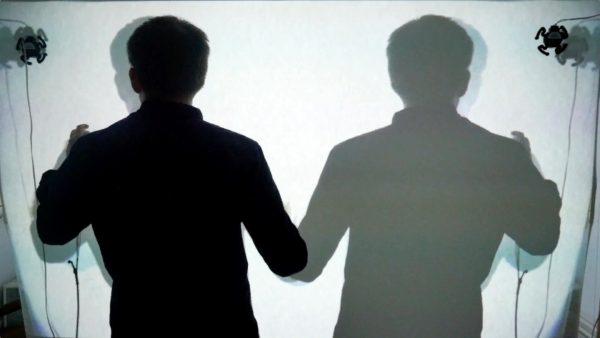 JASON THORPE BUCHANAN
Alexandra Bellon | Anne Briset
installation-performance
Jeudi 24 mai 2018 – 18H30
@ 76 Acacias (RU), Route des Acacias 76, 1227 Carouge
__________________________________________________________

FR (english below) – Dans le cadre de sa résidence à Embassy of Foreign Artists – qui a commencé au mois de janvier – Jason Thorpe Buchanan présentera une performance-installation pour deux performeurs, Alexandra Bellon et Anne Briset, incluant un dispositif électronique et de processing vidéo.
«PSYCHASTHENIA C: surface, tension» est le troisième volet d'un cycle de compositions pour ensemble avec un environnement processing immersif. Lors de cette performance, des fichiers médias sont créés, retravaillés, réorganisés et assemblés les uns aux autres, créant ainsi des dissonances temporelles, sonores et visuelles, grâce aux actions-événements qui sont ou ont été produit-e-s sur scène et par le dispositif généré en temps réel. Ce mélange de chronologies fluctuantes crée une sorte d'instabilité temporelle, qui remet en cause la mutabilité de notre mémoire, et propose des perceptions différentes du temps physiquement vécu.
Produit en collaboration avec les percussionnistes Alexandra Bellon et Anne Briset, cette performance-installation débutera par une présentation de son travail récent pour ensuite culminer par la première présentation publique de surface, tension.
ENG – In the framework of his residency at the Embassy of Foreign Artists – which started in January – Jason Thorpe Buchanan will present a performance-installation for two performers, Alexandra Bellon and Anne Briset, electronics, and live video processing.
«PSYCHASTHENIA C: surface, tension» is the third installment in a cycle of works for ensemble and immersive processing environment. During the performance, reservoirs of media files are created, retrieved, re-organized, and composited against one another, creating temporal, aural, and visual dissonances between past and present actions-events unfolding on stage and in media generated in real-time. The commingling of fluctuating chronologies creates temporal instability, challenges the mutability of memory, and proposes an alternative, speculative engagement with bodily-lived time.
Produced in collaboration with percussionists Alexandra Bellon and Anne Briset, this performance-installation will include a discussion of his recent work as a departure point for a more dynamic and open musical situation, culminating in the premiere of surface, tension.
__________________________________________________________

Le programme et les activités organisé par
Embassy of Foreign Artists
bénéficient du soutien de la République et canton de Genève, de la Ville de Carouge, ainsi que de la Fondation pour la promotion de lieux pour la culture émergente (FPLCE). Cet événement a lieu grâce au soutien de la coopérative
Ressources Urbaines
(RU).