Dimitri Madimin
*1975 in Rotterdam, lives and works in Amsterdam
Residency period : April to June 2017
Artist, musician/dj
In collaboration with the Mondriaan Fund
Dimitri Madimin aka Dim Browski trained at the renowned Rietveld Academy and hailed by Time Out Magazine one of the 50 movers and shakers of the Dutch art & music scene, his work spans from film to music, classical to visual art, photography to live performance, and it translates seamlessly on to a wide variety of media.
Across platforms and disciplines Madimin's work focuses on post-colonial identities, ethnocentricity, exoticism, exclusion versus inclusion and automatisms.
The artistic production of this Dutch Surinamese artist has been featured in various prestigious venues and galleries such as W139 (NL), Fringe (NL), Red Bull Studios (NL), De Fabriek (NL), Africa in the Picture (NL), Vlaams Cultuurhuis Brakke Grond (NL), SSBA (NL), De Vooruit (BE), Direktoren Hause (DE), Broadway Arts (UK), Io Isabella (IT), Carifesta (SR), Point PERF (CH).
As a curator and artistic director, Madimin's collaborations include the Nederlands Film Festival, Rotterdam Film Festival, Nuit Blanche, North Sea Jazz, Pink Pop, Sugar Factory, De Balie, De Kring, AFK, NYFA, City of Amsterdam, HVA and HKU, but also with commercial brands and non profit organizations such as Diesel, Bacardi, Hennessy, Kangaroos and the Red Cross.
He's also the founder of Ruyzdael a music group and Kiss Escort, a multidisciplinary creative collective and events organization factory that includes some of the most talented and well- regarded creatives in the local and international art & music scene; active for almost 20 years Kiss Escort is one of the longest-running organisations of its kind in The Netherlands and an institution in the local creative scene.
Currently Madimin is furthering his investigation into the post-colonial subject: together with South African artist Zen Marie he funded the Sugar Free Movement, an art project aiming at tracing the roots of current socio-political crisis and racial issues back to the ancient commercial trade routes. Part of this investigation includes an art installation titled "The Contract", "Dismemberance", "The Amsterdam Sugar Route", "Massaging Democracy" and a film titled "The Land of Milk and Honey".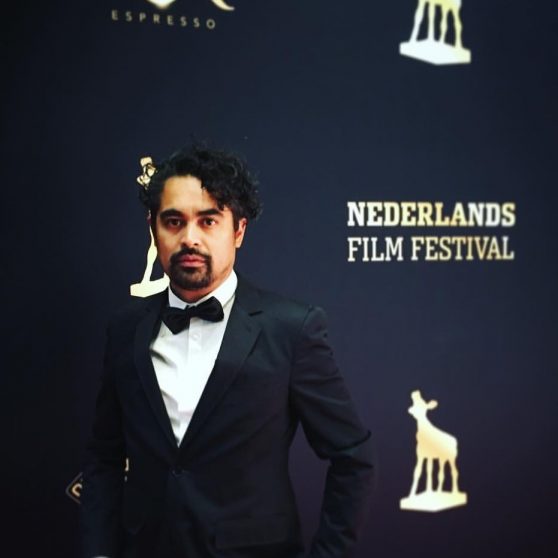 Year :
2017-en