Lotte Meret Effinger
*1985, lives and works in Berlin
Residency period : January to March 2019
Artist and designer
Granted by the Republic and Canton of Geneva 
Lotte Meret Effinger's projects and collaborations range from video, publishing, installation, performance to curating and writing. The main focus of her artistic practice is to analyze the effects of digital media and new technology on our self-identity. Her work was presented in different institutions such as Kunsthalle Basel (CH), Kunsthalle Baden-Baden (GER) and at the Arsenale in Venice (IT). Her work has been acquired by Lafayette Anticipation (FR) and Kunstkredit Basel-Stadt (CH). Effinger studied media art and graphic design at the Karlsruhe University of Art and Design (GER) and at the Gerrit Rietveld Academy (NL)
Statement
We tend to perceive our identities as stable and largely separate from outside forces but this is something I like to question. I am interested in the dilemmas which we are all confronted with, like the low self-esteem we all share under the pressure of neoliberalism, free-market forces and privatization. I have become convinced that economic change is having a profound effect not only on our values but also on our personalities, therefor its for everybody a challenge to deal with dependence and fears. There is a buried sense of fear, ranging from performance anxiety to a broader social fear of the threatening other.
Digital technologies have led to a rapidly advancing process of dematerialization and degeneracy. Our perception of the relationships between human and machine, self and other, subject and object are shifting – towards the recognition of hybrid forms. This requires us to rethink how we live, communicate and use our senses. Precisely this seems to me as a potential to change existing domination relationships. The project explicitly seeks to include the latest developments of scientific institutions. I am particularly interested in the research fields, which gain a new perspective on the human body.
The central piece is a video were various protagonist, animals and humans, are captured through magnifying lenses in high definition. These scenes are edited into a dialog with laboratory material. A poetic narration unfolds across familiar and unknowable spaces with an experimental sound scenery that would take you on a journey through the microscopic world. Parts of the video shooting are already completed. In the program 'Embassy of Foreign Artists' I would focus on the narration and postproduction. Specifically the time of the residency would be used to collaborate with the institution Campus Biotech to discuss image creating and reproducibility methods in science. This discussion will be the fundament to generate and montage a dialog for of the artwork. In the video montage, I would like to deliberately dispense with classifying and historicizing comments from science. Various scientific epochs, images, projections and views collide with each other and allow viewers to experience the construction of images and the disintegration of supposed certainties.
Website: www.lottemeret.com
Portrait of Lotte Meret Effinger by Robert Hamacher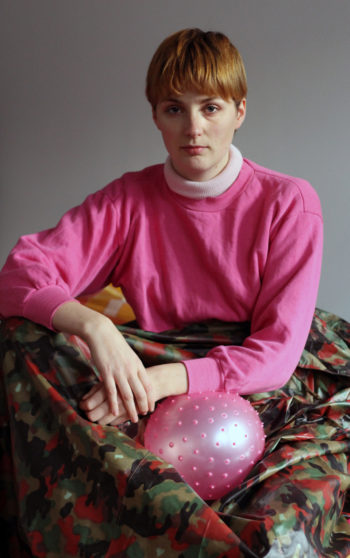 Year :
2019-en