SEAN CROSSLEY
*1987, Australia. Lives and works in Brussels
Residency period : April to June 2021
In collaboration with the Campus Biotech and the Flux Laboratory
Primarily working through painting, his works present a set of systems for dealing with subject matter as (simply) mass organized across space. The cognitive, the bodily and the social are brought together into an abstract space where any given thing can be subjected to reconfiguration. Crossley's attention has increasingly shifted towards the cultural and economic conventions of painting; how the overlapping subjects, forms and contexts of this rich critical space perform within our visual cultures of speed and abundance. Approaching themes and symbolic resources from generations ago through to the recently 'out of date', he reminds the viewer of the persistence of painting as a mode of thought and its capacity to seduce a prolonged, idiosyncratic engagement with imagery.
Crossley has recently been in residency at the Cité de la literature, Couvent des Récollets Paris (2018) and the WIELS centre for contemporary art, Brussels (2019).
Project – Fully Motional – a technique handbook, will aim to intersect aesthetic and neurological practices through the development of an object converging an artist's book with a user's manual. Such a book could only be generated through intimate, reciprocal exchange between artistic and scientific domains – a rare circumstance that will direct my residency at the EOFA in collaboration with the Medical Image Processing Lab (MIP:Lab) of the Campus Biotech. The book will develop a series of modules that carefully discuss and document research conducted in the laboratories, whilst providing a platform that encourages a reader to conceptualise and manipulate the material idiosyncratically.
The reciprocity between a practice of painting the neuroscientific practices at Campus Biotech underpins this project by suggesting that the specific knowledge developed in each domain can be adapted to intersect and complement each other. Many fundamental aspects of practicing painting and neuroscience share common ground and vocabulary – sensitivity and reflexivity, an intensive investigation into (dis)coordination and (de)synchronicity between the ocular and the cognitive. Paintings engage a viewer with distinct yet overlapping categories of experience (dynamic vision, colour as socialised phenomena, image recognition and signification) – a thinking of the simultaneous. I have described painting for many years as a dynamic, intersubjective, open-ended system.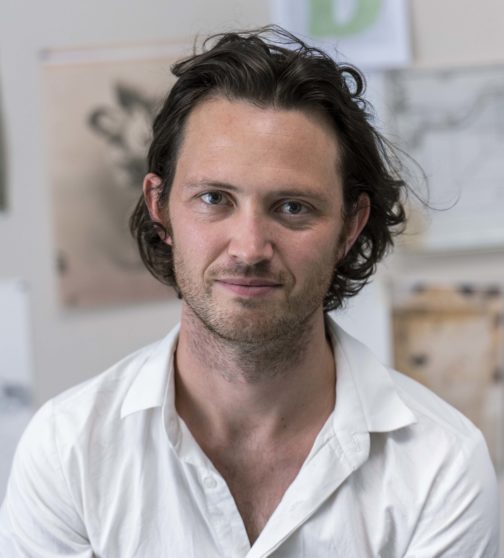 Year