CONSTRUCTLAB
* 2012 in Berlin
Lives and works all over the world.
Residency period: January to September 2020
Granted by the Republic and Canton of Geneva
Constructlab is the implementation of a variable collaborative practice. For each project, a variety of professionals from the local area and from the four corners of Europe (architects, designers, builders, sociologists, graphic designers, urban researchers, web developers, etc.) come together around a space…
Sébastien Tripod
Sébastien Tripod graduated in 2015 with a Joint Master of Architecture from the Hautes écoles spécialisées de Suisse occidentale and the University of Bern. Since 2015, he has been participating in the design and creation of projects throughout Europe as part of the Constructlab network. Since 2016, he has been collaborating with the group HALLO in Hamburg, for spatial and performative projects. In 2015, he was invited to sit on the external jury of the masters programme at the École Spéciale d'Architecture (ESA) in Paris. Since 2017, he has been working as an independent architect based in Vevey, and collaborates on various workshops with the Joint Master of Architecture programme, the Haute école d'ingénierie et d'architecturein Fribourg, as well as the Haute École de Travail Social in Sierre.
Licia Soldavini
Licia Soldavini is an urban facilitator based in Berlin. She studied sociology at the University of Milan and Humboldt University of Berlin, and urban planning at the Institut Français d'Urbanisme in Paris. She collaborates with European architect collectives like Constructlab, raumlaborberlin (Germany), ateliermob (Portugal) and Bruit du Frigo (France) in the context of the sociocultural dynamisation of common spaces, collaborative design processes, and exhibitions on these practices. She is currently a teaching fellow at the Institute for the History and Theory of Architecture and the City, with Prof. Tatjana Schneider at the Techni­cal University of Braunschweig.
Vincent Yersin
After graduating from the University of Lausanne with a degree in philosophy, Vincent Yersin taught literature before going to work for the Literary Archives within the Swiss National Library. As a writer, he has published critical and creative texts in periodicals (Le Persil, La Revue de Belles-Lettres) and in several collective books. Since 2012, he been a member of the AJAR collective (Vivre près des tilleuls, Flammarion, 2014), with which he practices group writing and advocates a lively, performative literature. His first collection, Lettre de motivation, was published by BSN Press in 2016. His short story Les couleurs grossièreswas published by Paulette Éditrice in December 2019. He has been participating in Constructlab projects since 2018.
Statement
In the context of the residency, the decision was made to assemble a team of managers capable of planning the project in a transdisciplinary way: getting to know the territory and participants by various means, proposing a narrative, and evaluating the physical implementation from a technical and aesthetic point of view. Transdisciplinarity is viewed as a tool to generate a project capable of integrating a certain social, cultural or spatial complexity.
https://www.constructlab.net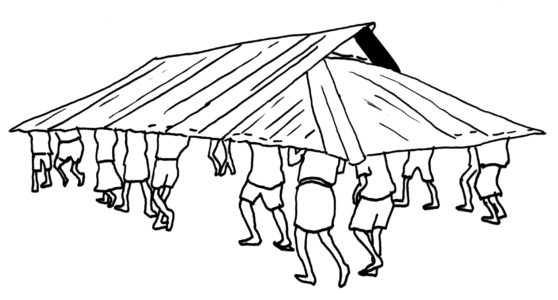 Year :
2020-en