Gil Delindro
*1989 in Porto, lives and works in Berlin
Residency period : January to March 2018
Multidisciplinary artist
Gil Delindro is a unique presence among a new generation of Sound and Media Arts. He has distinguished himself by the research on organic elements, ephemeral events and intangible processes in Nature. His cross-border practice is based upon film, installation, sound performance and site specific/field research, facing themes such as time, animism, decay and geology.
Sound is the binding element of his work, it symbolizes the immaterial nature of matter, a continuous collapse of the present with no fixed body – such metaphor is a core question, how do we perceive intangible movements in nature. Delindro´s ephemeral installations are based upon transfigurations of matter, using time measurements and amplification processes they become independent beings with life expectancy. Although simple and sensory, they serve as well an imaginary world of immersive metaphors – the contemporary human condition as echoes of the natural world.
From the 3 month residency in African Saharan Desert (The Weight of Mountains – 2015) to the Rainforests of Brazil (Resiliência – 2017), Delindro has dedicated a great part of his practice to extensive field research in remote areas. His work has been presented in more then 40 countries worldwide and awarded by foundations such as EDIGMA, Gulbenkian and ENCAC. In 2016 he was selected by SHAPE as one of the most innovative sound artists working in Europe and performed in festivals such as MusikProtokoll (Austria), Novas Frequências (Rio Janeiro), Submerge (Bristol) and CynetArt (Dresden).
Image: ©Deli Gleba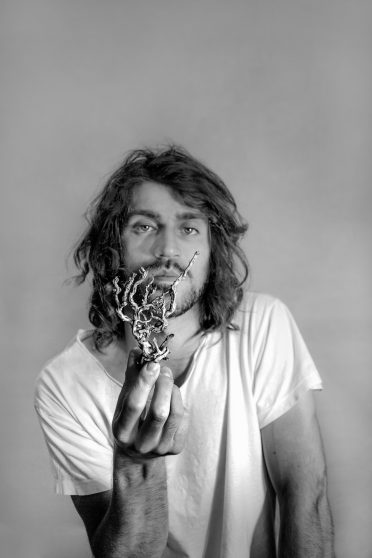 Year :
2018-en