Hu Zi
*1981 in China, lives and works in Shanghai
Residency period : April to June 2019
Artist
In collaboration with Pro Helvetia Shanghai
Hu Zi graduated from The Department of Comprehensive Painting at the China Academy of Art with M.F.A. (2007). During her exchange as a student at École des Beaux-Arts de Paris (2006) she had a residency at the Cité internationale des arts Paris. She was also selected for the Glenfiddich Artist in Residence Programme in Scotland (2014). She works most often in gouache, but also in oil paint, both invested with translucency. In her long-term practice of making portraits, she collates individual experiences for the construction of a self-image by fabricating the very unique touch of body boundaries, also brings together her understanding of exotic culture and her misaligned gaze on the opposite sex. The subjects addressed include rock gods, literary giants, great artists and those who have or had an impact on her.
Hu Zi's solo exhibitions include «Stone Flesh» (Don Gallery, Shanghai, 2018), «Mozart» (Studio D'Arte Raffaelli, Trento, Italy, 2017), «Lover» (Fab-Union Space, Shanghai, 2016), «Flesh» (Don Gallery, Shanghai, 2014), «Kids» (Don Gallery, Shanghai, 2014), etc. She was also featured in «Infantization» organized by Shanghai Art Museum (2007), which later toured to Musée d'art contemporain de Lyon, France and Basel Dreispitzhalle, Switzerland (2010).
When looking back on today's art-historical prospect, she has found the place where she belongs – return to easel art especially by painting on paper and canvas in the traditional genre of portrait, take it as the best perceptual field for reconstructing the flesh, and make it compete with the body being alienated in the age of consumerism. Under the title «Portrait and Culture» for this residency, she intends to further research on fresco painting and photography, concentrating on the technique and material of the former, also the archival and documentary record of the latter, transforming both of them into proper image element and exhibition language that would apply to portraiture. She is especially concerned with photography, and wants to explore the possibility that photography and painting contribute to each other as an approach by a detailed examination on the finished films and photographic prints via different developments.
www.imhuzi.com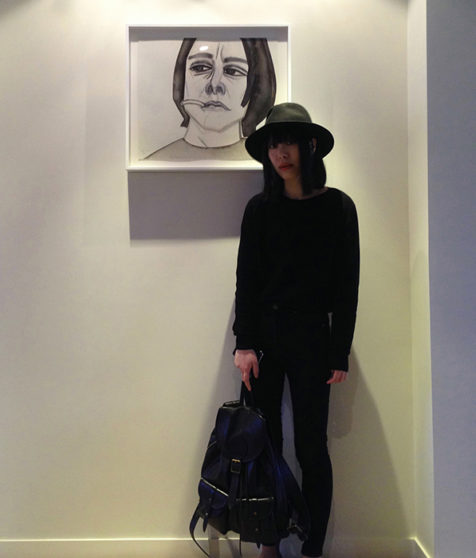 Year :
2019-en