Shailesh B.R.
*1986 in Segara (India), lives and works in Dehli
Residency period : April to June 2019
Artist
Granted by the Republic and Canton of Geneva
Shailesh BR did his Bachelors in Fine Arts from Charmarajendra Academy Of Visual Arts – CAVA, Mysore before going on to complete his post graduation from Faculty of Fine Arts, MSU, Baroda. His practice is grounded on the nature of processes – of philosophical thought, art and rituals as and through a material vocabulary of the everyday that allows for re-imagining the purpose and function of everyday objects around him. Like in Tarka Shastra, a philosophy which analyses the source of knowledge and its verification through the art of debate, Shailesh goes further on to decode the very politics of such a debate that is deployed as a validification tool.
Statement
«My ideation begins with several drawings that serve as illustrations of my everyday thoughts like rituals or blueprints and documents the possibilities of my work. It imagines the construction of a device that may eventually be an object or exist as a thought. I deal with complex 'machines' and simplify them in terms of their physicality and function, to make them more representational of human needs and/or want; just like mechanisms sometimes exist in society irrespective of their actual necessity. Raised in a small village in South India without access to basic electricity during my childhood, my introduction to mechanics during my higher education greatly fascinated me. This fascination within my practice is applied to solve queries and answer questions of philosophies and existence.
My practice remains a reaction not only to an object/practice that I see and interact with, but also its sensibility, meanings, practical, conceptual or metaphorical connotations. I thereby "repurpose" objects to alter their function and inject them with of satire to criticize its political, social or cultural significance.
I previously studied Sanskrit wherein I was fascinated by the play between an external beauty/ functionality of a form or object, its inner meaning, references, and the resultant analysis of the object, is what is embodied in the Tarka Shastra way of thought and is what excites my practice as well.»
Website: www.shaileshbr.com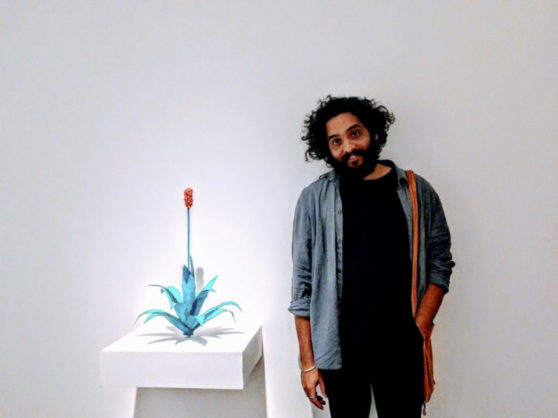 Year :
2019-en