Gavin Krastin
*1987 in Cape Town (South Africa), lives and works between Cape Town and Grahamstown
Residency period : October to December 2018
Interdisciplinary artist and arts educator
With the support of Pro Helvetia, Swiss Arts council
A collective residency with Anastasia Proshutinskaya and Mohamad Abbasi.
Gavin Krastin is an interdisciplinary artist and arts educator straddling the worlds of choreography, scenography, actionism and live art performance. Although he comes from Cape Town, South Africa, he attended Rhodes University in Grahamstown where he received his Master of Arts Degree in Drama in 2011, cum laude (with preceding undergraduate and postgraduate degrees in drama and art history and visual cultures).
After graduating Gavin briefly lectured at Rhodes University Drama Department in physical theatre and performance courses while also working with First Physical Theatre Company, a university-affiliated research project, before returning to Cape Town. Having established an independent performance practice in Cape Town, he joined the University of Cape Town's Centre for Theatre, Dance and Performance Studies in 2014 as a part-time teacher in live art and physical performance.
Over the past five years Gavin has had the opportunity to teach, perform and exhibit across South Africa, England, Wales, Scotland, Czech Republic, USA, Canada, Germany, the Netherlands and Brazil, achieving several awards, fellowships and residencies in the process. At the start of 2018 he founded 'Arcade', a nomadic platform of various guises for durational live art performance for young and emerging South African artists.
Recently Gavin left his position at the University of Cape Town to return to Rhodes University where he teaches part-time and has assumed the role of artist-in-residence and project manager for the First Physical Theatre Company. He continues to travel and work between Cape Town and Grahamstown, and the two universities, as determined by his artistic career.
For Gavin performance is not a means of escaping the politics of the body, but rather a means to occupy, subvert and challenge notions of presentation and representation.

Photo by Harold Gess : Gavin Krastin's Yet to be Determined 2018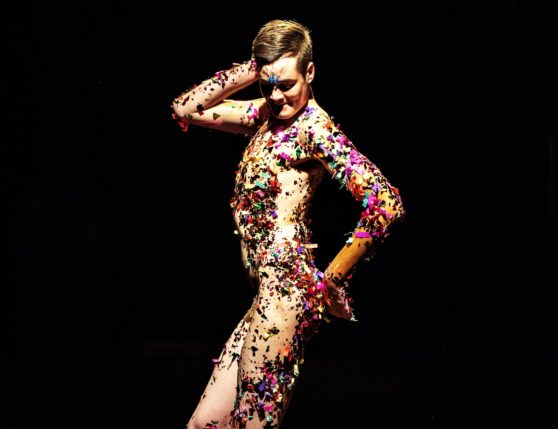 Year :
2018-en