Sébastien Branche
*1980 in Issy-Les-Moulineaux, France, lives and works in Leipzig
Residency period: October to December 2017
Musician, saxophonist
Sébastien plays soprano, tenor and C-melody saxophones. He got started with improvisation through workshops with musicians coming from contemporary jazz or improvised music.
Interested in perceptive phenomenons, he works mainly with sound as a material, describing himself as a "sound crafter" for an audience to listen to. His interests also extends to body and space, as he regularly confronts his practice to contemporary dance.
He plays in the saxophone duet Relentless, in duet with viola player Cyprien Busolini or electronics musician Miguel A. Garcia, in large orchestra with IMO, and regularly meets other artists, either for private sessions or performances.
He also works on solo performances with tenor sax on a stand and light electronics (Lignes) or soprano saxophone and water (saxopH2One). He has played around Europe in various venues and festivals, for concerts, dance performances or soundwalks.
Sébastien taught Mathematics in high school and also gave a workshop about soundscapes there. From April 2015, he is taking a leave to devote his time to shiatsu and to his music.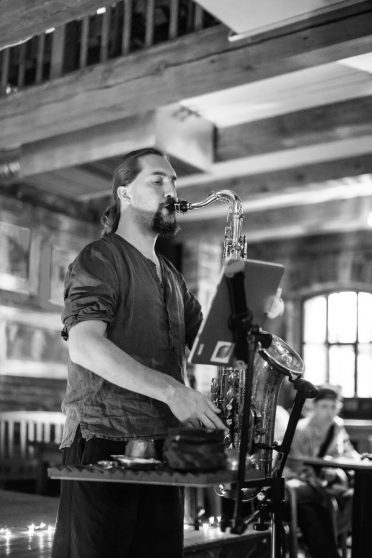 Year :
2017-en